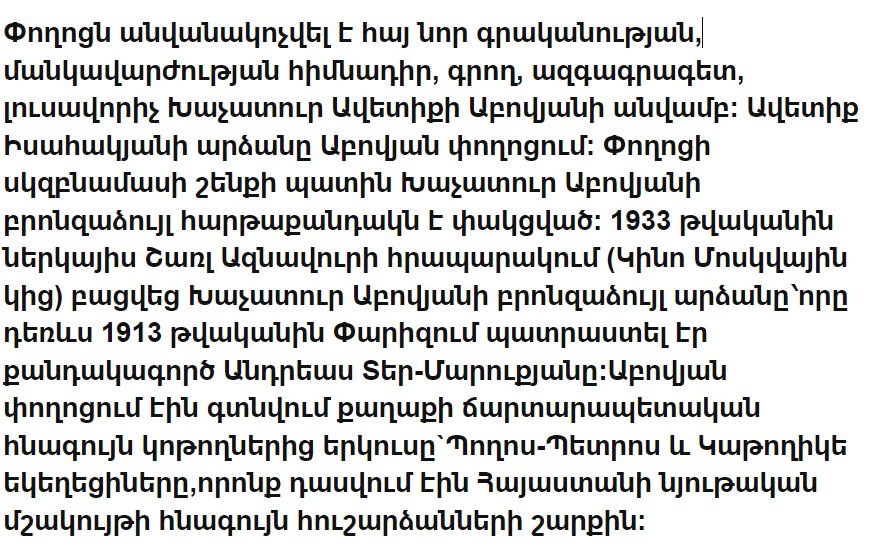 Few people know why it is called "Head of the Plan". The history of the streets of Yerevan
In 1869, Abovyan street was named Astafevsakaya in honor of the governor of Yerevan from 1864 to 1869, Major-General Astafev, but the people called it the Armenian Astafyan version.
Since this was the first planned street of the city, the people understood Astafyan street by "plan", and The Abovyan park above the street, where the statue of Khachatur Abovyan is located, was and still is understood as the "head of the plan". Previously, the street was called Amrotsai, then Astafyan.
The street was named after the founder of new Armenian literature, pedagogy, writer, ethnographer, enlightener Khachatur Avetiki Abovyan. The statue of Avetik Isahakyan on Abovyan street. A bronze bas-relief of Khachatur Abovyan is posted on the wall of the building at the beginning of the street.
In 1933, a bronze statue of Khachatur Abovyan was opened in the current Charles Aznavour Square (next to Kino Moscow), which was made by the sculptor Andreas Ter-Marukyan in Paris in 1913.
Two of the ancient architectural monuments of the city were located on Abovyan Street: Poghos-Petros and Catholic Churches, which were ranked Among the ancient monuments of material culture of Armenia.
Paul-Petros
Paul-Petros were monuments of the fifth century, and Catholicos of the thirteenth century. The first was located on the site of the present "Moscow" cinema (it was demolished in 1933), and the second – at the corner of Abovyan and Sayat-Nova streets. The RA Ministry of Energy and Natural Resources is located in the building of street 27.
The front is the "Youth station" of the Yerevan metro, the monument of Avetik Isahakyan. A monument to astrophysicist Viktor Hambardzumyan was erected in front of the street observatory. A memorial stone "In memory of the Hungarian prisoners of war martyred in Armenia in the Second World War and the Armenian fighters who died in Hungary" is placed here (August 28, 2004).
The Republican Center for Aesthetic Education, the Philharmonic, the National Olympic Committee of Armenia, the Ministry of Sports and Youth Affairs (Building No. 9) are also located on Abovyan Street. K. Stanislavsky State Russian Drama Theater, Yerevan Hotel, Vladimir Spivakov International Charity Fund, Aviatrans Hotel, Arno Babajanyan Concert Hall, RA Ministry of Territorial Administration, RA Ministry of Foreign Affairs, Ararat Restaurant.
Source: hay-life.ru